What and where to eat when you're a vegetarian - and broke - in downtown Cairo.
Most of the veggie guides of Cairo will explain how easy it is to buy tofu or almond milk in different places in Maadi, or to have delicious veggie meals in fancy restaurants in Zamalek or - guess? - Maadi.
But what if you're broke - or let's say that you have a decent Egyptian income which doesn't allow you to buy imported products for your breakfast nor to go eat twice a day in a fancy restaurant nor even to live in places like Zamalek or Maadi?
Well, worry no more because actually Egypt is quite an easy place to be a vegetarian - and here are few tips to eat good vegetarian or vegan food in downtown Cairo for less than 20 L.E per person. You're welcome.
Kochary
Probably the best Egyptian invention since the Pharaonic ages. The Egyptian national dish is not only delicious, it is also completely vegan and a perfect source of proteins. Made of spaghetti, macaroni, rice, lentils, chick peas, grilled onions and tomato sauce - and, for the brave ones, chili - it's probably the most consumed meal in the country, and one of the cheapest. Koshary is served in special restaurants that you can find all over Cairo, and that usually don't serve anything else. People say that Abo Tarek, in Champollion Street, is THE koshary place, even though a good friend of mine would rather recommend Tom & Basal, a franchise that you can find in most of Cairo neighborhoods. But the truth is, if you agree to put aside your European hygiene standards, the best koshary you will ever eat is the one from a little shop in a very popular area - and you will probably not pay more than 5 L.E…
Foul, Falafel and so much more
The second more consumed food in Egypt: the popular sandwiches. You can buy them from the car down your street, one of the many 10-square-meter restaurants in your neighborhood, or bigger restaurants anywhere in the city, such as Gad, Akher Sa'a, Felfela in downtown…
The idea is simple: foul (mashed fava beans) and falafels (called in Egypt taameya) are the stars. You can buy them in sandwiches or plates (or plastic boxes and a roll of newspaper more generally). Notice that you can alternate between different varieties: simple foul, foul with oil, butter, tahina, eggs, salad, garlic, tomato sauce, Alexandrian foul or taameya (with vegetables and chili)… There is more than one way to enjoy your everyday foul!
But the thing is, and many non-Egyptians ignore that: foul and taameya is not all of it. For vegetarian and vegan people, these places are a paradise: you can find all sorts of potatoes (French fries; chips; mashed or fried potatoes…); eggplants (baba ganoug, eggplants mashed with tahina, garlic and lemon; missa'a, eggplants cooked with garlic and tomatoes; grilled eggplants; vinegar eggplants…); cheese (feta with tomatoes and/or cucumbers; gebna adima, the spicy one; rumy cheese; fried cheese…); eggs if you like them (boiled eggs; fried eggs; omelets; chakchouka, sort of omelet with tomatoes…). A really good and cheap way to eat every day at the same place but not the same dish! But be careful, as good as this food can be, it can also literally make you sick if brought from the wrong place… The good and the bad places usually being side-by-side, don't pick the wrong one!
Some tips: the foul car in Garden City, Dr Mohamed Fawzy Street, is definitely a hit, even the Egyptian elite comes there to eat popular food. Few meters away, the Sultan restaurant on Kasr El-Aini is also a good choice - probably the best one in the whole street. If you head up to downtown, you will discover that Gad makes a good baba ganoug, but the missa'a is better at Felfela, and the French fries in Kazaz are always cold…
Popular restaurants
Besides the foul-and-taameya food, some restaurants also serve "real meal" - i.e. not just sandwiches or take-away stuff. All the Gad, Akher Sa'a, Kazaz, and other restaurants of this kind have a room upstairs where you can seat and order more complete meals, like rice with vegetables (generally, boiled potatoes, okra, green or white beans, eggplants), soups, salads, stuffed vine leaves or vegetables (another delicious classic Egyptian meal), etc.
Kazaz is really cheap and makes the best lentil soup in town (you can have it with or without butter); a really tasty and healthy plate, excellent if you feel a bit sick or cold when you add fresh onions and lemon.
Foreign food
Let's face it: despite all my advice, the Egyptian food is globally not really good - a French person would say that it lacks of sophistication. But fortunately, among the 20 to 30 million Cairo inhabitants, few thousands come from foreign countries where the food tastes better, even though it is very similar. Syrians are getting really good at this: with the flow of refugees from the war, more and more Syrian restaurants are opening in all Cairo neighborhoods. Everybody agrees that the food there is better - like can you seriously compare an Egyptian taameya with a Syrian falafel? - and the hygiene standards are generally higher also…
But Syrians are not the only refugees community in Cairo: Sudanese restaurants are fewer but as least as good as the Syrian ones. Sudanese food is basically the same than Egyptian, but way more tasty: you have to try their foul, with vegetables and cheese, their bamia (okra), or just their rice with some tomato sauce. Also not to be missed: the peanut butter salad, excellent source of proteins, delicious and vegan. There is a nice Sudanese restaurant in Mohamed Farid street, although don't trust their menu: just ask them what they have today, they will bring you something cheap and delicious anyway.
Crepes
One very good piece of news from the last couples of years: Egyptians discovered the crepes! Four years ago, only some places in Heliopolis were serving them, but now you can find crepes in almost all the Egyptian popular places. Of course, they are doing it the Egyptian way: with lots of meat, ketchup and mayonnaise. But you can always have crepes with cheese or French fries, and/or vegetables, it's not the healthiest food you'd have, but sometimes you just want a massive amount of cheese in your body don't you? The best crepes are to be found at Gad in Midan Bab El-Louk, where they also make the Nutella ones with actual Nutella and not some kind of low-brand chocolate paste…
Fatayer and pizzas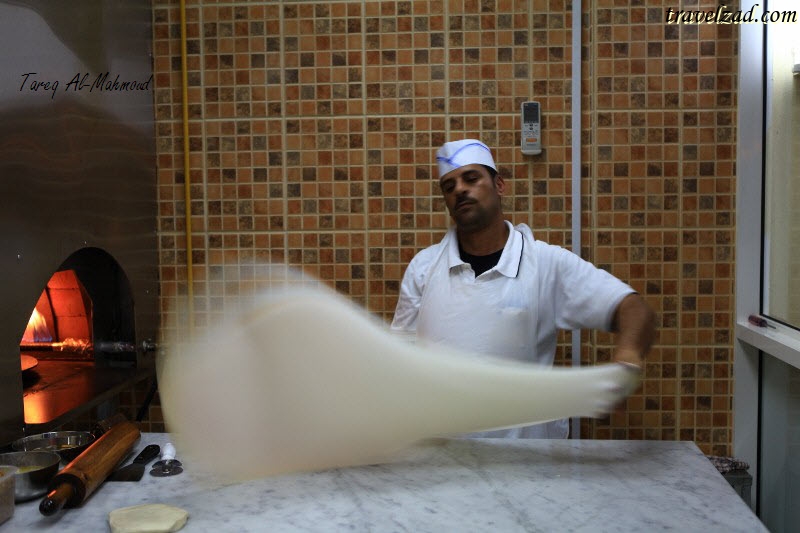 More traditional, and probably healthier, than the crepes: the Egyptian fatayer - nothing to do with the Lebanese ones. Fatir (plural, fatayer) is not only a really enjoyable meal, it's also an eyes' pleasure. You have to see the cooker preparing the dough and then making it literally fly around him before garnishing and cooking it. Fatir is a mix between a salty crepe and a pizza: you can have it with different kinds of cheese or vegetables, or sweet (cream, honey, coconut, walnut, chocolate, sugar…).
The places that make fatayer generally also make pizzas, so here again you can choose between the different kinds of cheese or vegetable. Don't be surprised if your pizza comes with a bunch of ketchup bags: in Egypt, they don't put tomato sauce on their pizzas, so they replace it by ketchup afterwards…
Anyway, the best pizza you can have in your Egyptian life is definitely the cheese one at El-Mohandesin in Manial, and the best fatayer can be found on Kasr Al-Aini, at the 'Kingdom of Fatayer'. And both of them make delivery…
Bakeries and pastries
Another really cheap but also good way of feeding oneself: the bakeries that you can find at every street corner. Don't even try to taste anything that looks like European - it's probably a failure - just go local and you won't be disappointed. You will find a whole variety of dates (sometimes fig)-stuffed bakeries, different types of bread, but also some mini-pizzas, the famous "paté" which is like the French "pain au chocolat" (a croissant filled with chocolate) but with cheese inside of chocolate, biscuits, cakes…. And of course the whole variety of oriental pastries: basboussa, konafa, baklava, etc…
Don't hesitate to taste what you don't know!
Even though El-Abd is supposed to be the best bakery in town, I would personally rather go to the one at the beginning of Mahmoud Bassiouny Street, in front of Groppi. Or the ones at the Dokki metro station, if you happen to go there.
Juices and smoothies
Another delicious, fresh, and cheap solution: juices and smoothies. There are juices stores everywhere in the city. You can ask for the traditional Asab, the sugar cane's juice, but also, depending on the season and place, almost everything you could possibly dream of: orange, carrot, guava, mango, kiwi, pomegranate, grapefruit, strawberry, avocado… Or you can have a mix of both or more of the above.
In the fanciest places, you can also have smoothies or milkshake, including different flavors of ice-cream, Oreo, Twix or Kitkat for instance…
And generally, you can also have a cup of fruit salad, again possibly covered by cream or ice cream…
You will probably cross one of these stores every 200 meter, but know that the most famous one is undeniably Fruit City, one again on Kasr El-Aini, not only by the quality of their juices, but also by the services the tenant Ahmed pays to the expat community in the neighborhood - one of these being delivering other kinds of beverage at your place…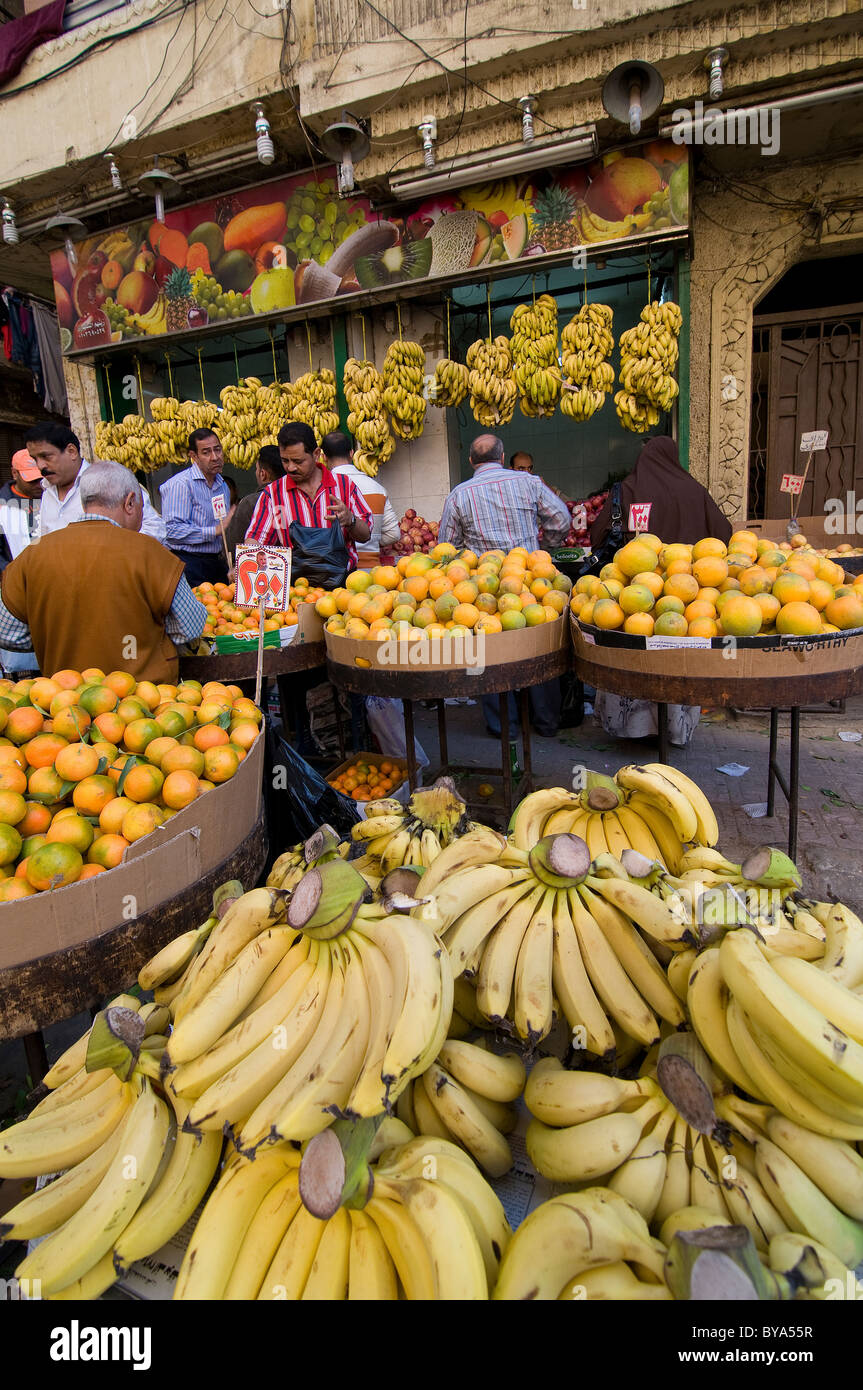 Fresh fruits and vegetables
Finally, as a good vegan/vegetarian that you are, you are also probably a good cooker. And actually, the best way to eat a delicious meal in this city is to have it house-maid. The products are fresh, diverse and delicious. Depending on the season, you will find in the local souks or often just down your street the same incredible variety of fruits already mentioned and some of the best vegetables ever. And I'm not only talking about tomatoes, cucumbers, carrots, zucchinis or peppers. I'm talking about all different kinds of cabbages (green, red, broccoli, cauliflower…), spinach, okra, arugula, at least 4 different types of eggplants, asparagus, watermelon, artichoke, radish… I'll let you imagine all the delicious food that you can cook with these ingredients!
And if you're not that broke…
Oh, and if it happens that finally you're not that broke, or you want to try some very good - but a bit more expensive - food, here are some good addresses.
Costa and Beano's Coffeeshops branches. They both make excellent cheese Panini, along with smoothies and some really nice pastries (the 'Nutella +' crepe at Beano's is a perfect birthday breakfast!), and the more traditional salads.
Lychee in Zamalek makes amazing organic smoothies, based on many different types of fruits or vegetables, and thought for all your needs: healthy breakfast, vitamins cocktails…
Also good to know, the Burger Factory branches are making a really decent vegetarian burger with mushroom paste replacing the steak.
And if one day you feel like going out in a real - expensive - restaurant, you have 2 options: Eish w Malah, THE fancy restaurant downtown specialized in Mediterranean and Italian food, and which proposes specific vegetarian, vegan or gluten-free meals such as pastas, pizzas, salads, delicious desserts, and incredible brunches… Or L'Estoril, a bourgeois restaurant in downtown, that has an amazing "vegetarian corner" at its menu, and also, the good thing is you can eat the tastiest lasagnas or cannelloni AND drinking alcohol at the same time… Both perfect places to celebrate with your veggie friends!